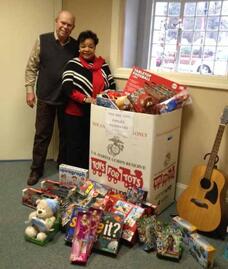 This is our 6th year supporting Toys for Tots.
We applaud all who donate to make this project a success. Together we are stronger for the sake of our children and their families.
​
​Thank you, Wake Forest and Wake Forest Charter Academy, K-8 and beyond! See you again each year.
Drop off at our office in the gift-wrapped box at 104 S. White Street, Suite 204, Wake Forest, Downtown.
Toys and More Toys for SO many children we have never met to make them HAPPY!

As Founder and Board President, I am especially proud of my first "Tuition-Free Public Charter School", Wake Forest Charter Academy's 6th Grade Girls who initiated and collected 432 Toys for Tots. Dean Brittni Hancock, middle school dean, far right, their sponsor, made it a math project, too, to document the number of items. Principal Amanda Brown surprised me by donating the toys to Parlér Properties. I am so blessed to have this wonderful family at Wake Forest Charter Academy. Dreams do come true! Our moral focus curriculum teaches our students to be grateful. The virtue for November is "Gratitude", and they exemplified it by making Parlér Properties' project our best year yet by including in our total of 1,097 Toys For Tots. Yes, 1,097! With much gratitude and love, my caring and giving students.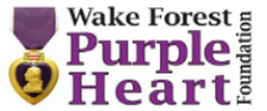 Since 2014, we found the need to sponsor (noted as PPLLC on the list) and be a part of this event that warms our hearts and being to the core.
I serve as receptionist for the Wake Forest Woman's Club's Public Issues Community Service program, CSP yearly.
To have dinner, meet our friends and cohorts from Wake Forest and surrounding areas is a privilege and a treat.
The highlight, of course, is the Walk of Honor of the Purple Heart Recipients; young, older, male and female as they are introduced under crossed swords by the Wake Forest High School Jr. ROTC cadets.
The recipients put their lives on the line for their fellow soldiers and ours.
Thank You! Bless You and Your Families! You Are Brave!!